Diamond Eternity Bands
No doubt that the most exquisite way to represent your undying love for each other is to purchase a diamond eternity band from WeddingBands.com. Whether you want a traditional round eternity diamond band or the one featuring fancy cut diamonds of your choice, we guarantee the finest quality ring at the best price.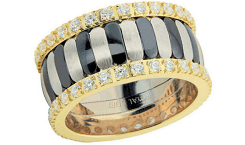 Hand-matched diamonds with maximum brilliance set in 18K gold to make the perfect eternity band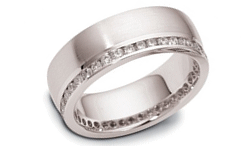 Desirable collection of palladium eternity bands to celebrate your occasion.
About Our Eternity Rings
Exchange of wedding rings is probably the happiest day in every person's life. The wedding day is a centuries-old tradition that symbolizes the loyalty and devotion of two loving hearts. That is why you should treat the choice of wedding rings very seriously and scrupulously, so that you every time you look at them, you will the exact happiness and love that overwhelmed you that day. That is why wedding rings must clearly meet all your needs. After all, you will be wearing them all your life. We back each item with a lifetime warranty against manufacturing defects and stand behind a 30-day money back guaranty. What we offer:
14K gold eternity rings
18K gold eternity rings
Platinum eternity rings
The best place to buy top-quality eternity diamond bands
Each of our eternity rings are graded at Very Slightly included in clarity and G/H in color or better. Our diamonds are always better grades for the same price or better than the leading bridal website. Our eternity rings start at $1,000 and increase from there. The sky is the limit, and if you do not see what you are looking for, we can always make a custom ring. Just call or email us and talk to a GIA certified jewelry professional.

If you have any further questions about our eternity rings please call us at (888) 422-4333 or email us at CustomerService@WeddingBands.com to speak to one of our many expert jewelers on staff. Like us on Facebook at Facebook.com/weddingbandscom or follow us on Twitter@weddingbandscom.